Beautiful Lewd Flight Attendant =Part 2=
We going to show you part two of W fuck series. At first of this part two is Kasumi Kato version. Guys insert big cock to her mouth as deep throat. She needs help but it impossible.
She has to blow job guys cock. While she do it, another guys insert his cock to her vaginal by doggy style. He gives hard stroking to her pussy. She has got cum. Then next she ride on to guys who sit on the couch as cow girl position. She grind her butt by herself.
He takes her onto the mattress and insert his cock to her pussy by side position with hard stroking. She has got cum again.
After that Mari also joined to fuck. Two girl gives erotic service to guys cock together. And another two guys insert cock to pussy and hard stroking.
Then next, Kasumi put strap with dildo on and fuck Mari's pussy as lesbian play by doggy style and missionary posture. After that while guys insert his cock and gives hard stroking Mari lick Kasumi's nipples. Guys who cum shoot to Kasumi's pussy, Mari has to clean up his dirty cock by her blow job. After that another guys also cum shoot to her pussy as well.
Bobbed Hair, Long Hair, Glamour, Height: 160cm ~ 164cm, Height: 165cm ~ 169cm, Deepthroat, Blowjob, Lesbian, Creampie, Cowgirl, Lingerie, High Definition (16:9)
Photo Gallery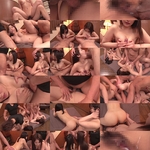 Watchlist
Buy
商品詳細
Actress

Kasumi Kato Mari Sakurai

Model

n1244

Maker

Tokyo-Hot

Release Date

2017/10/24

Duration

00:51:11

ビットレート

4,000kbps

解像度

1280x720

サイズ

1.45 GB

ダウンロード期限

14日

視聴期限

無期限

プロテクト制限

無し