Beauty and Devils Hard Core Play Vol 1
Tokyo Hot will publish new series for you "Beauty Sisters Series". We thought that want to have fun with beautiful ladies ofcource. But Tokyo hot is not taking a normal video series. We fuck beauties as slave or meat urinal. Mika Okuno is nice fair skin beauty who has got plump and sensitive body. We are very exciting for fuck her as meat slave. Finally she has had accept many times cream pie till she pregnant. Also she has shown standing piss at front of guys and camera without shame.
Mika has shooting picture at studio as photo model. She just came to here that she only know easy work. She taking a pose as very lewd. And she is seducing a handsome actor. When she taking a break, she has shown masturbation to him.
She touch and rub her pussy over panty by herself. Also insert her finger to her pussy till cum. After that she deep kiss to him and push her boobs onto his cock. She lick his cock and balls. While she enjoy fun with him, some of devil guys come into the studio.
They lick her nipples and gives finger fuck to her pussy by open legs pose. She has got Squirting lots. Guys push Cusco into her pussy to see inside. Also put rotor onto her clitorises.
After that they push three rotor into her pussy and she has got acme.
She also has to blow job guys cock as deep throat. While she blow job guys cock, another guy insert his cock to her vaginal by standing pose. He takes her as missionary posture and bent over position with hard stroking. He has cum shoot to her vaginal by missionary posture. After he cum shoot, she has to clean up his dirty cock by her blow job.
Then next, another more devils also cum shoot to her vaginal as after another. Total more than ten times. Finally she has to show standing piss at front of guys and camera.
Long Hair, Average, Big Tits, Height: 165cm ~ 169cm, Deepthroat, Masterbation, Cusco, Hand Job, Blowjob, Bukkake, Pussy Bukkake, Creampie, Piss, Gangbang, Vibration Machine, Cowgirl, Casual Wear, High Definition (16:9)
Photo Gallery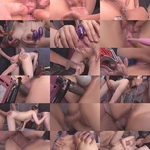 Watchlist
Buy
商品詳細
Actress

Mika Okuno

Model

n1206

Maker

Tokyo-Hot

Release Date

2017/02/03

Duration

01:39:37

ビットレート

4,000kbps

解像度

1280x720

サイズ

2.78 GB

ダウンロード期限

14日

視聴期限

無期限

プロテクト制限

無し