Sexy Announcer Meat Urinal Debut =Part 2=
Miori Matsuoka are an intimate relationship with a senior announcer has discovered. She has to apology to her boss and another staff with offering her body as sex treatment.
Guys insert her pussy cock and gives hard stroking. She also has to blow job another guy's cock while fucking. He takes her as cow girl position and she has to open her pussy by herself and rub clitorises.
Three guys insert cock to her mouth for blow job. She gives hand and blow job with crying. One guys insert his cock to her pussy by doggy style and holding her one leg.
After that guys bring her onto the mattress and one guys insert his cock to her vaginal by missionary posture with hard stroking. And he takes her as doggy style. He cum shoot to her pussy. After he cum she has to clean up his dirty cock by her blow job.
Another guys also cum shoot to her pussy as after another.
Long Hair, Average, Medium Tits, Height: 155cm ~ 159cm, Deepthroat, Blowjob, Bukkake, Pussy Bukkake, Creampie, Gangbang, Cowgirl, Female Office Worker, High Definition (16:9)
Photo Gallery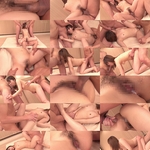 Watchlist
Buy
商品詳細
Actress

Miori Matsuoka

Model

n1246

Maker

Tokyo-Hot

Release Date

2017/11/07

Duration

00:38:12

ビットレート

4,000kbps

解像度

1280x720

サイズ

1.07 GB

ダウンロード期限

14日

視聴期限

無期限

プロテクト制限

無し