Cute Beauty Boobs VIP Maid Service =part 2=
Yuri Konno got into captivity. She has to put her arms and legs onto deck brush as cannot move. And also takes a doggy pose on couch. Guys fuck her from back side to her and she has got cum.
Then next, she lie down on the mattress and guys insert his cock to her pussy by missionary posture with hard stroking. She has got cum again.
When guys fuck her, anther one more guys insert his cock to her mouth for blow job.
After that she ride onto guys who sit on the couch. She grind her but by herself. And two more guys comes up and join to her as well. She has got cum again.
After one of guys cum shoot to her pussy, he takes off his cock from her and insert to her mouth for clean up his cock by her blow job.
Another guys also, after cum shoot she has toclean up all of guys cock has to clean up by her blow job.
Guys put collar onto her neck and keep her to secret room for meat slave for guys.
Long Hair, Glamour, Big Tits, Height: 160cm ~ 164cm, Blowjob, Creampie, Restraint, Gangbang, Lingerie, High Definition (16:9)
Photo Gallery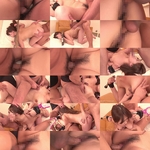 Watchlist
Buy
商品詳細
Actress

Yuri Konno

Model

n1254

Maker

Tokyo-Hot

Release Date

2018/01/02

Duration

00:36:39

ビットレート

4,000kbps

解像度

1280x720

サイズ

1.03 GB

ダウンロード期限

14日

視聴期限

無期限

プロテクト制限

無し