Sexy Beautiful Secretary Sensitive Pussy =part 2=
Yuki Okamoto is a very sensitive girl. She always working in Tokyo Hot Company as secretary. She has got clamed from another office worker that too much sexy. She has got punished from guys for apogees. After that guys bring her to another staff room for more hard punishment and got more cum shoot.
She has to ride on to her boss as cow girl position. Also she grind her butt by herself. She has got cum again and again with piss.
After that another guy also insert his cock to her pussy by doggy style. He gives hard stroking and she got exciting feeling as well. She has got cum again.
He takes her as missionary posture and grind her again. She ride on again to him and grind her butt more hard.
Another more guys comes up to her and she gives hands job and blow job all of cocks. One guys put electric drill into her pussy for giving hard shaking to her pussy. She has got cum again and again.
After that guys insert und cum shoot to her pussy as after another.
Long Hair, Big Tits, Height: 155cm ~ 159cm, Deepthroat, Cusco, Blowjob, Pussy Bukkake, Creampie, Gangbang, Casual Wear, High Definition (16:9)
Photo Gallery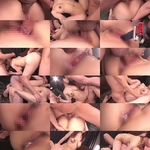 Watchlist
Buy
商品詳細
Actress

Yuki Okamoto

Model

n1250

Maker

Tokyo-Hot

Release Date

2017/12/05

Duration

00:46:49

ビットレート

4,000kbps

解像度

1280x720

サイズ

1.32 GB

ダウンロード期限

14日

視聴期限

無期限

プロテクト制限

無し