Office Worker Treats Sexual Desire =Part 1=
Office Worker Treats Sexual Desire =Part 1= Haruka Watabe is a nice lady who has got sexy body. She has to apology to the customer with offering her body for her company which is order from her boss. Many guys ride on and cum shoot to her as gang bang.
Haruka working with bank as Investment business division. But she made a serious mistake and gave the customer a loss. Many customer comes up and needs apology and gave back money immediately.
Customer cannot accepted any apology from the bank side. Boss said that she has to offering her body to the customer for apology.
She has to sit on the table and take an open legs pose. Boss tear her panty hose and show her pussy to the customer. And he said that will offer her pussy to them for apology. Customer takes clothes off and come up her. They lick her nipples and body.
Then next, she sit on the chair and takes an pose as open legs pose. Guys put lots of rotor onto her body and clitorises.
One of guys insert vibrator to her pussy with hard stroking. And put rotor onto her clitorises at the same time. She has got splash.Customer are fuck and cum shoot to her pussy as after another.
After that, the boss call her to his room and need more apology to him. But if she said sorry to him, he cannot hear her voice. So he put collar onto her neck and has to work as dog in the room. He training her to be nice slave. She has to blow his cock as deep throat.
To be continue part two.
Shaved/Waxed, Glamour, Medium Tits, Height: 150cm ~ 154cm, Deepthroat, Blowjob, Creampie, Gangbang, Vibration Machine, Female Office Worker, High Definition (16:9)
Photo Gallery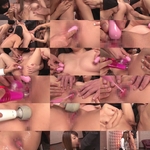 Watchlist
Buy
商品詳細
Actress

Haruka Watanabe

Model

n1239

Maker

Tokyo-Hot

Release Date

2017/09/19

Duration

00:46:13

ビットレート

4,000kbps

解像度

1280x720

サイズ

1.30 GB

ダウンロード期限

14日

視聴期限

無期限

プロテクト制限

無し