Big Boobs Beauty Girl Hard Orgasm
Big Boobs Beauty Girl Hard Orgasm Yuri Konno is a cute girl who has got girlish eyes and beautiful boobs. Devil guys are rub and lick her big boobs. But she looks no matter of that or she cannot say anything to them? Anyway guys cannot stop fuck her. She has to blow job guys cock till he cum.
She just bring to the studio and sit on the front of camera without telling anything. Guys comes up and grind her boobs. She cannot say anything and cannot escape from guys. She still confuses what going on.
Guys takes her clothes and bra off to show her boobs. He lick her nipples.
Then, she has to push boobs onto plastic plate. Another guys put rotor onto her nipples and clitorises.
She just feel exiting with get wet her pussy by vaginal juice. Guys giving finger fuck to her pussy. And they push two rotors into her pussy as well. She has got cum immediately.
After that she has to takes a pose as doggy pose on the couch to show push and anal to camera. Guys push vibrator into her pussy with hard stroking.
And also put rotor onto her clitorises at the same time. She has got cum again.
Vaginal juice has comes out from her pussy are lots. Then she has to takes a pose as open legs pose on the couch. Guys put electric massage machine onto her clitorises and nipples. She has got cum again.
After that guys takes her to the bath room and she has to blow job his cock with deep throat. She blow and hands job to his cock till he cum.
Good Girl, Long Hair, Glamour, Big Tits, Height: 160cm ~ 164cm, Deepthroat, Hand Job, Blowjob, Vibration Machine, Casual Wear, High Definition (16:9)
Photo Gallery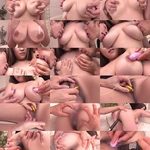 Watchlist
Buy
商品詳細
Actress

Yuri Konno

Model

n1237

Maker

Tokyo-Hot

Release Date

2017/09/05

Duration

00:54:21

ビットレート

4,000kbps

解像度

1280x720

サイズ

1.51 GB

ダウンロード期限

14日

視聴期限

無期限

プロテクト制限

無し