Acme Shower of Lewdness Girl
Screaming! Squirting! Acme! Natsumi Hirayama who is slender body beauty has got 168 times cum at this time. She has only few sex experience on her life. But she love guy's cock. She always masturbation with electric massage machine. She has come to Tokyo Hot as meat slave at this time. She has got cum by sex toys and electric massage machine play also real guy's cock as well. While guy's fuck and giving hard stroking to her pussy, she has got squirting at the same time. Also she needs cum shoot to her vaginal lots.
Natsumi has got some interview from guy's and also she taking clothes off. He grip and lick her nipples. He takes her panty off to show her cute pussy and gives finger fuck to her clitorises. She has cum with screaming. She has got very sensitive body. He keep continue rub her pussy, she has got acme again and again.
After that he push Cusco into her pussy to see inside. At the inside was full of vaginal juice are come out already. Looks she really wants to fuck and cum shoot.
After that. She wearing bikini swim wear and guys touch and lick also giving finger fuck to her body and pussy with rotor play. He push rotor into her pussy.
Also he push vibrator into her vaginal with gives hard stroking. She has cum and acme again and again. When he put electric massage machine onto her clitorises, she has got piss and cum.
She also has to blow job his cock. While she blow job his cock, another guy insert his cock to her vaginal by missionary posture. He takes her as doggy style and standing style and cow girl position.
Another more guys also cum shoot to her vaginal as after another.
Long Hair, Slim, Medium Tits, Height: 155cm ~ 159cm, Masterbation, Cusco, Blowjob, Bukkake, Pussy Bukkake, Creampie, Vibration Machine, Cowgirl, Casual Wear, High Definition (16:9)
Photo Gallery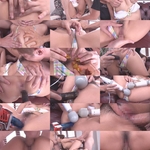 Watchlist
Buy
商品詳細
Actress

Natsumi Hirayama

Model

n1193

Maker

Tokyo-Hot

Release Date

2016/12/20

Duration

01:45:21

ビットレート

4,000kbps

解像度

1280x720

サイズ

2.99 GB

ダウンロード期限

14日

視聴期限

無期限

プロテクト制限

無し